Help Nantucket Preserve Its Greatest Resource- Its People.
Housing Nantucket is a non-profit 501(c)(3) organization. All donations are tax deductible to the full extent allowed by law. Those directly benefiting from our programs include health care professionals, Town employees, teachers and school employees, artists and musicians, postal workers, retail and service workers, non-profit employees, families and single people.
YOUR GENEROUS SUPPORT HELPS US
• Create and maintain affordable rental housing
• Purchase housing for affordable housing purposes
• Develop vacant land by recycling houses or building new
• Preserve properties where affordability restrictions are in jeopardy
• Assist low and moderate income homebuyers
• Advocate to further affordable housing initiatives
• Ensure housing opportunities for future generations
Fill-in amount of donation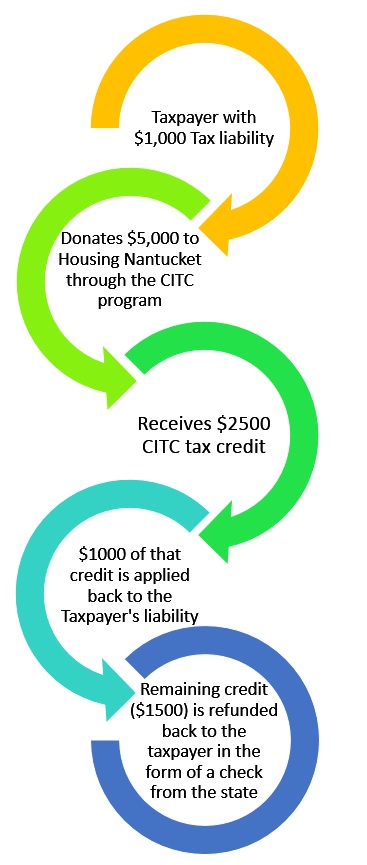 Community Investment Tax Credits (CITC)
Donations over $1,000 receive a state tax credit as well as federal tax benefits.
Housing Nantucket seeks donors who'd like to more than double the impact of their donation dollars. In addition to a federal tax deduction, donors can realize a 50% State tax credit for gifts of $1,000 or more. Donors without any state tax liability (or non-residents) receive a check from the state in the amount of the credit. Individuals and corporations are eligible, and banks can utilize the CITCs for Community Reinvestment Act donations.
Housing Nantucket was awarded $150,000 of Community Investment Tax Credits from the State of Massachusetts for 2017. Contact us today for more information on how this program benefits us both.
We accomplish our goals through their kind support.
Alexis Otto
Anonymous
An Anonymous Family Foundation
Barbara Stevens
Bernadette & Tuck Meyer
Bill & Louise Hourihan
Bill Jennings & Family
Cape Cod Express
Cape Cod Five Cents Savings Bank
The Community Foundation's Nantucket Fund
Penny Dey
Dr. Jeff Drazen and Mrs. Erica Drazen
Melanie Gowen
Hingham Savings Bank
Kevin McGuire
Lauren and Neil Marttila
Marc & Wenche Gazaille
Matt & Sheila Fee
Nantucket Island Resorts
Protex Electric
ReMain Nantucket Fund
Ron & Ellen Winters
Scott & Lisa Stuart
The Tile Room
The Tupancy-Harris Foundation
Donate Appliances, Rugs, Furnishings, Art
Out with the old, in with the new!
Remodeling? Please consider Housing Nantucket for a donation of your gently used appliances. Depending on our needs and storage capabilities, we accept dishwashers, refrigerators, stoves, microwaves, washing machines and clothes dryers in good condition for use at our rental properties. Photographs and measurements will help us assess whether we can use the items, which must be clean and in working order. After determining the item is useful to us, we will coordinate with the donor for drop-off at our location.
Cleaning out a house? We appreciate donations of furnishings, art, household goods and rugs. Our storage capabilities are limited, but we can accept items which lend themselves to local online sale. Proceeds raised from the sale of donated items go towards furthering our mission. If you have a large amount of items for donation, we can host a "benefit tag sale" at your location, emptying the contents of your house quickly with minimal effort on your part.
Please contact us for more information.
House Recycling
Create a unique opportunity while saving a home from the landfill
If you are in a position to do so, please consider donating your structurally sound dwelling to Housing Nantucket. We will do our best to find it a "new home".
The majority of our rental units were moved from private property to our land, which is in scattered sites around the island. Your dwelling could be next in providing island families with a year-round, affordable place to live. Even if your house doesn't meet our current needs for rental homes, we may be able to accept your house if we are able to find it a new owner. Small dwellings (less than 22' wide and less than 2 stories) in good condition with easy access to a paved road are ideal.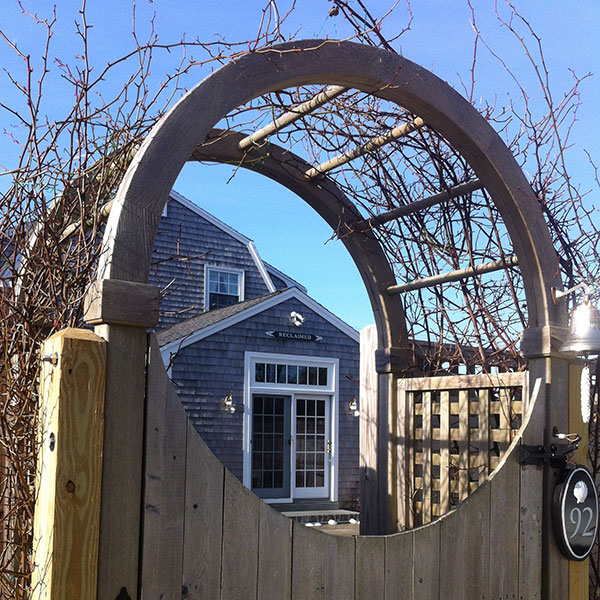 "If we didn't take Housing Nantucket's Home Buyer Ed class, buying our first home on Nantucket would have been an absolute nightmare. We were educated on what to expect and learned to save and budget. Being in a room full of other curious home buyers helped, too. We never felt reprimanded for asking the simplest of questions."
~ Laura & Chris, Nantucket Home Buyer Ed Graduates
"It would have been easier, frankly, to tear down my cottage, but instead I donated it to Housing Nantucket. It now sits on Old South Road and provides a year-round home for an island family. I see it every time I drive to the airport and I think, isn't it great that Housing Nantucket enables those of us fortunate enough to spend summers here help the people who make our summers possible: the island's full-time residents."
~ Chris M.
"The Covenant Program allowed my husband and me the opportunity to purchase our first home on Nantucket. Despite growing up here, it was nearly impossible for us to afford our own home without this program. Ten years later we sold our home to someone in a similar situation, providing the circle of affordability to continue and making the dream of home ownership on Nantucket come true for someone else."
— Bess C.
"The Covenant Program is an amazing resource for Nantucketers. My family and I were constantly getting caught in the "Nantucket Shuffle" and had to move every year to another place. The cost of living rose so much it exceeded my income. I wasn't sure if I would be able to stay on island. Luckily, we were able to get approved for the covenant home program and purchase a home to remain on the island. I am very grateful for the people at Housing Nantucket. They are very informative and helpful. I also recommend the "First Time Home Buyer Education Class." These are invaluable assets to aid in the longevity of our community and help people find affordable housing."
— Scott C.
"When we were considering different options about what to do with our Nantucket home before construction began, we were delighted to learn about Housing Nantucket. We had enjoyed more than 15 years in our house, and were thrilled to learn that there was a way for other families to enjoy our house as we had done. Housing Nantucket was a wonderful partner, and made every part of the process easy. We were even more pleased when, while waiting for a ferry, we met a member of the Nantucket Fire Department who was enthusiastic about the contribution Housing Nantucket makes to the community. Our community is very special, and contributing our house to Housing Nantucket helped us support that community in a very special way."
— Greg B.
I've lived on Nantucket since 1999, and housing has always been a problem. But it got worse in 2005. I was renting in Naushop when my landlord decided to sell the house. I searched but couldn't find anything. A friend told me to apply to Housing Nantucket, so I did. Shortly thereafter, I got a call that I was chosen for one of their rentals. I've been a tenant of Housing Nantucket since October of 2007 and must say I am very grateful to Housing Nantucket for providing my family and me with a stable home.
~ Rose Marie S.
We have been tenants of Housing Nantucket since April 2008. We are very impressed by the high level of service and quick response time on all our communications.
Over the years, we have noticed affordable/available housing has declined tremendously. Many people we know have had to move from the island and/or commute for work on a daily basis. Without Housing Nantucket, we would be unable to continue living and working on this island."
~ Annette and Richard
My wife and I moved into a Housing Nantucket rental in 2011. Having affordable, secure housing provided the stability we needed to start a family and for me to start my own business. I don't know if I would've take those important steps in my life without Housing Nantucket's help. I want to say thank you!
~ Dobromir S.
Housing Nantucket is a wonderful organization that has really helped my family. Year-round, affordable housing is a scarcity on Nantucket, and we feel so fortunate to rent our home from them. I am employed by one of the island's many wonderful non-profit organizations. Having secure housing enables my family to continue living here and contributing to the island community that we love.
~ Marie K.